For Parents
You can make a difference in the life of a child
Northpoint Pediatrics actively participates in clinical research studies for one simple reason: the more we learn about how treatments work on children, the better we can treat childhood diseases. To do this, we need help from families like yours.
Next time you walk into one of our offices, look around. We have posted flyers there (and here on our website) regarding current, available trials. We encourage you to read about the studies and consider participating – the study information fully describes the trial procedures, including any potential risks and benefits. You may also be approached by your physician or nurse practitioner if your child qualifies for one of our studies.
Before participating in a study, we will thoroughly discuss the project with you and answer any questions you may have. It is important to know that participation in a clinical trial is completely voluntary and consent may be withdrawn at any time and for any reason. The medical care you are currently receiving from your pediatrician and pediatric nurse practitioner will in no way be affected by your participation, or lack of participation, in a clinical trial.
Why participate?
Improve your child's health: With any trial comes the opportunity to improve a child's current health due to access to newer treatments, presumably with an improvement in disease condition or a cure of that condition. Quality of life may also be improved by a safer product with fewer side effects than currently available treatment.
Help others with new medicine: Your participation can help bring a new treatment to market that benefits an entire population. (Examples of new treatments that came out of trials include vaccinations, chemotherapy regimens, artificial joints, use of lasers, and the DaVinci surgical robot just to name a few.)
Be compensated for your time: The majority of studies offer compensation for time & participation, tracking of data, or further testing whether it is lab studies, radiological studies, EKGs, etc that are study-related, and not part of your routine healthcare.
Receive careful medical attention: Study patients are monitored closely and carefully. This allows for potentially picking up any health changes immediately, whether study-related or not.
Types of Studies
Northpoint Pediatrics primarily participates in Phase III trials:Phase III Trials are the last and therefore safest trials prior to a product receiving FDA approval and be available for the general population. In order to enter into Phase III testing, there has been extensive investigation of the product, typically covering many years of study and evaluation.We are excited about the opportunity to participate in medical research and hopefully many infant, pediatric, and adolescent patients will benefit from it as well.
Phase I trials are completed on a small number of healthy volunteers, who are monitored extensively – usually around the clock and overnight or for several days in an inpatient unit.
Phase II trials may only start after successful completion of Phase I Trials. In Phase II Trials, study participants are selected from the general population because of the disease or condition for which the drug, vaccine, device, or treatment is intended. If a Phase II Trial is completed without an adverse event or side effect, then a Phase III trial may begin.
Want to learn more?
Dr. Louise Tetrick is the Principal Investigator on all studies and Cleo Coyle, RN, CCRC, is the Director of Clinical Research and study coordinator.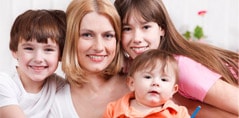 Call the research department direct with any questions you may have (317) 621-9199
Principal Investigator
Clinical Research Director
Clinical Research Coordinator
Executive Practice Director
Employment Opportunity
Clinical Research Coordinator